(S05E03) Previous Episode
Aired On 2021-10-11
Shaun confronts Salen about the many changes she has implemented since coming on at St. Bonaventure. Glassman is forced to accept his new role at the hospital.
Next Episode (S05E04)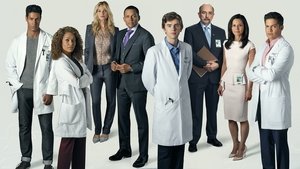 Airs On 2021-10-25
Dr. Shaun Murphy and the team treat a young girl whose father's personal research complicates their treatment plans. Meanwhile, Dr. Park, Dr. Reznick and Dr. Lim's patient refuses a life-saving lung transplant despite having a family donor
The series follows Shaun Murphy, a young autistic surgeon with savant syndrome from the small city of Casper, Wyoming. He relocates to San Jose, California, to work at the prestigious San Jose St. Bonaventure Hospital. The question will arise: can a person who doesn't have the ability to relate to people actually save their lives. The American remake of the 2013 South Korean series of the same name.
Writing:
David Shore
Park Jae-beom
Stars: